CJ Cooper's vision leads Calumet's running game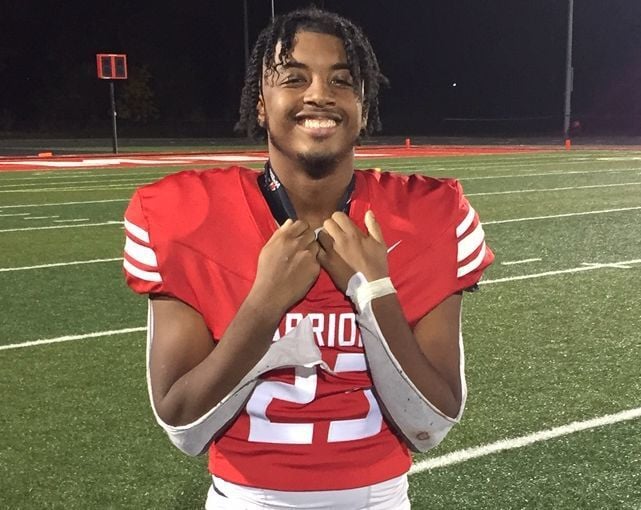 CALUMET TWP. — CJ Cooper just has a feel of the football field.
The 6-foot, 180-pound senior running back for Calumet can take a minimal gain on one play and turn it into a breakaway scoring run on the next.
That's what Cooper did in Friday's 32-14 win over River Forest in a Greater South Shore Conference north division game with a 59-yard touchdown sprint in the second quarter to ignite the Warriors (1-1, 1-0).
"The previous play, we got a 2-yard gain on the same play," he said. "I saw a little gap once I fell down. I said, 'Coach, let's do that one more time.' My tight end made a great block, and my right tackle made a perfect hinge and I just attacked the hole. They just made me do my job. With those guys, that's all I can ask for, just to play hard."
Cooper's big play gave Calumet a 10-0 lead on the way to the dominating victory over the visiting Ingots (5-3, 3-1).
"My offensive line just played wonderful (Friday)," he said. "They were just creating holes. They just continue to work hard. They had a great week in practice, so I knew it would carry over."
Cooper finished with 159 yards rushing, added touchdown runs of 4 and 3 yards and caught four balls for 50 yards.
"CJ's vision is second to none," Calumet coach Rick Good said. "He lets the game come to him. He's a very poised guy. From the shoulder pads up he's one of best out there, so we're happy to have him."
Cooper was one of the main running backs last year after getting indoctrinated as a sophomore as a change-of-pace back. He transformed himself in the fragmented offseason to become Calumet's go-to back this season.
"He's a guy who had all the tools last year. I think he realized to take his game to the next level and to do all the things that he knew he could do, he had to lose a little weight and put on some better weight. (He also had to) work a little bit on the speed," Good said. "He's always had those natural gifts of vision and things like that."
That vision is something Cooper takes to heart, and he likes to fashion his game after pro running backs Saquon Barkley of the New York Giants and Alvin Kamara of the New Orleans Saints.
"That's what I want to be when I get older," he said. "To be the best, you've got to see the best."
What Cooper is doing this season doesn't surprise senior quarterback Jerell Johnson.
"This dude is amazing, and I love playing with him," Johnson said. "We've just got that chemistry. That's the easy part — I've just got to get him the ball."
Johnson did his part as well against River, completing 8 of 10 passes for 86 yards — connecting with Cooper a few times on wheel routes.
"He's really become a complete guy out of the backfield," Good said. "That wasn't something we were asking him to do last year, so to add that to his plate and make him a bit more multi-dimensional is going to help us in the long run."
Cooper took it to heart to get better for this season.
"In the offseason, I knew I had to get faster and get stronger, and I knew that my line would do the rest," Cooper said.
Johnson said it was nice to get to play in Calumet's only regular season home game.
"We were just itching to get out here and just play football," he said. "We love playing football in front of these fans and our families. We treat every game like it's our last game because you never know what could happen tomorrow. Just coming out here in front of our home fans, on senior night at that, it's a blessing to be here in this position."
Calumet appears blessed to have Cooper running the ball.
"He's our leader as far as the running game goes, and we go about as well as he goes," Good said. "This was a good game for him, and he needed this to kind of set the tone for the rest of the regular season at least."