Calumet track star Jai Reed leaves her mark, verbally commits to Purdue Fort Wayne
Jai Reed wishes she could rewind time.
Maybe then, the Calumet star would have been able to prepare herself for the loss of her senior season.
When she was held out of the Warriors' first indoor track meet due to a minor leg injury, she was disappointed. When it turned out to be the team's only track meet of the season, she was devastated.
The coronavirus pandemic forced the IHSAA to postpone and eventually cancel sports for the rest of the school year on April 2, and its decision took away the dream season Reed had envisioned for herself.
One day later, she turned the page to a new chapter in her career by verbally committing to Purdue Fort Wayne.
"The long jump coach seemed more excited than I was, and he seemed really committed," Reed said. "He was really excited to talk to me about the things that he loved, and I could tell that he really cares about it, so he made me want to go there."
Reed, who also played volleyball and basketball at Calumet, never thought she would become a Division I athlete. She joined the track team to simply stay in shape, but her interest in the sport quickly grew and so did her success.
Throughout her prep career, Reed said Warriors track coach Jerae Protho-Guider constantly pushed her to tap deeper into her potential. The senior recalls many practices in which Protho-Guider had her doing workouts that seemed more like punishment rather than training, but it paid off.
Reed broke the program's long jump record twice last season and set the current school record of 18 feet, 5 1/2 inches at last year's state meet in Bloomington.
"I'm really proud of that," Reed said. "I really didn't know anything about the record at the time. We found out the next day when I went to school, and one of my teachers — who's really historical about the school — he told me about it. I was really shocked."
Protho-Guider said it was heartbreaking to see Reed's high school career come to a close prematurely, especially following a stellar junior campaign. In addition to the long jump, she thinks Reed had a strong chance of qualifying for state this year in the 100- and 200-meter dashes.
"It was really, really difficult," Protho-Guider said of the conversation she had with Reed following the IHSAA's cancellation of spring sports. "But one thing that I found easy is that it doesn't stop here for Jai. She still has a collegiate career, and if she wants to run professionally, I believe that she can do that."
If Reed had the chance, Protho-Guider is certain that the senior would have etched her name a few more times in Calumet's history books. But beyond her individual accolades, Protho-Guider added that the true extent of Reed's legacy can be measured by the impact she had on her peers.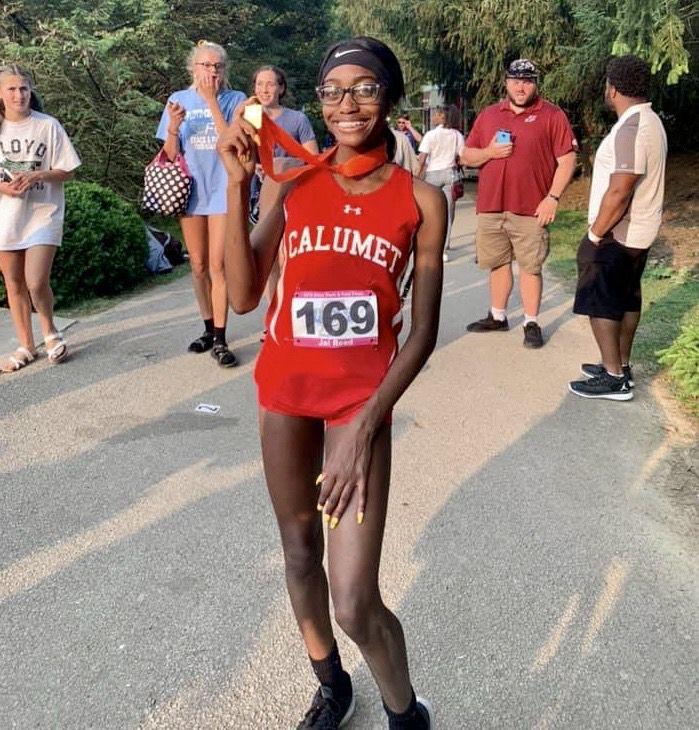 The standout long jumper wasn't boastful but uplifting. And the more attention she received, the more she wanted to share it with her teammates.
"Jai was the only female last year (at Calumet) that made it state, and she set the bar pretty high," Protho-Guider said. "So, when her teammates and people in the school saw how far she got, they believed that it was reachable. They started coming to practice more. They started working hard just as Jai did."
Reed is still grappling with the abrupt conclusion to her last prep campaign. But overall, the senior said she is grateful for the countless memories she made as a Warrior throughout the last four years.
"I'm going to miss everything about Calumet. I knew everyone there, and it was so fun," Reed said. "It's going to be really weird going to another school and starting over. … But I'm down to try anything because I just want to be great. I want to leave a mark in college, too, not just high school.
Click here to read article in its entirety.